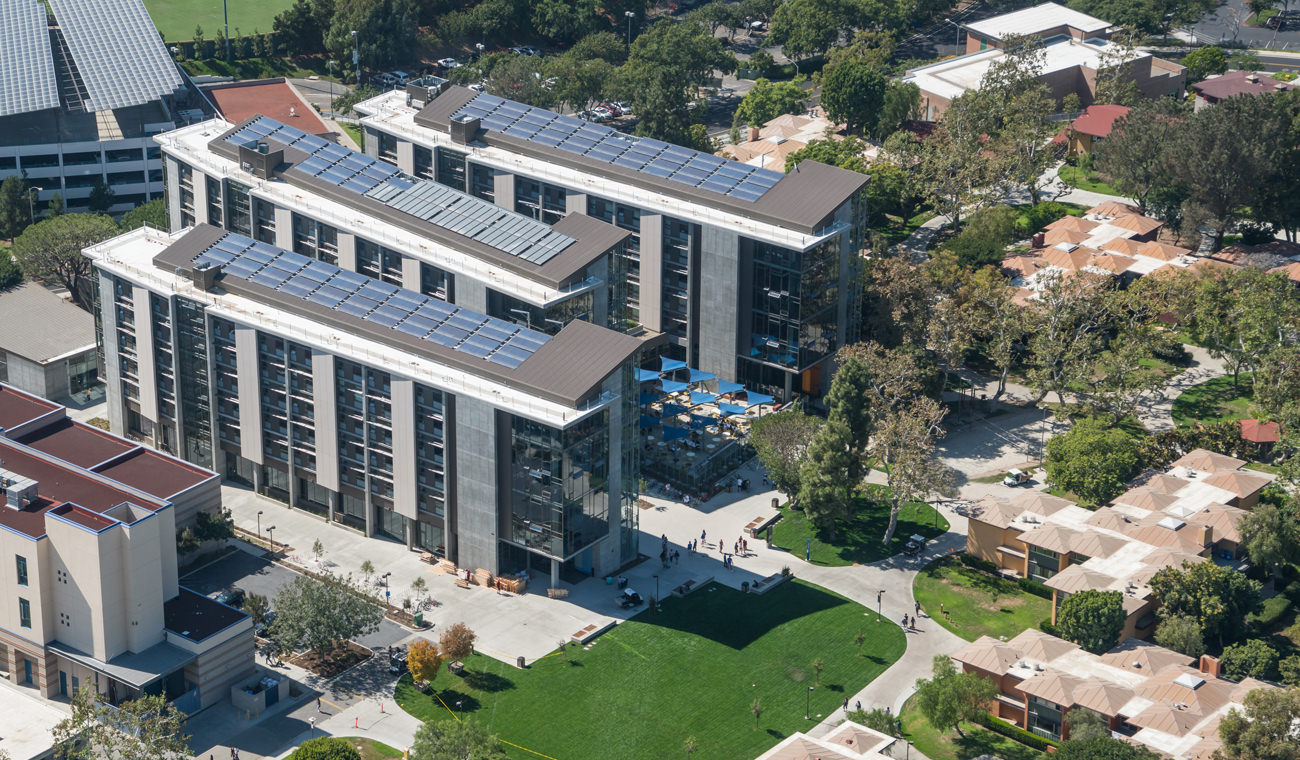 Mesa Court Community Expansion
Projected Completion Date: August 2025
This project will provide up to 400 beds for undergraduate students in quadruple occupancy rooms. As an expansion of the Mesa Court Community, the project will also include common areas distributed throughout the building, including study areas (interior and exterior), collective hubs with kitchens, and laundry facilities.
Construction Update as of 10/03/2023:
Phase I design development is underway
Pre-construction site investigations are complete

Survey
Utility locating
Geotechnical investigation
---
About this Project
The Design & Construction Services department managed the Design-Build delivery of the Mesa Court Housing Expansion project, one of the first housing projects to introduce high-performing high-density vertical living on campus. The process encompassed the planning, solicitation, design, and construction phases required to deliver a dynamic project that introduced new and various amenities including a thriving dining facility as well as educational and recreation spaces. This living and learning community housing project had unique challenges concerning the site and its location relative to existing and occupied Mesa Court Housing units, aggressive completion schedule, and other program requirements.
This complex project is evidence that the Design-Build process was pivotal to overcoming its unique challenges. The process allowed each stakeholder an opportunity to provide the necessary input to produce and deliver one of the most complex and challenging projects to date. The degree of commitment, collaboration, and innovation of the team including various and numerous representatives of UCI, Hensel Phelps, Mithun, their subconsultants and specialty contractors, made this project a success and worthy of award consideration. The knowledge, expertise, and commitment of the team allowed DCS to fulfill the project program objectives with on-time and on-budget performance and deliver a project that has undoubtedly transformed the campus and its student housing communities.
Design & Construction Team
Gen. Contractor:
Hensel Phelps
Architect:
Mithun
Struct. Eng.:
DCI Engineers
Civil Eng.:
KHR Associates
Mech./Plumbing Eng.:
Hartford Engineering
Electrical Eng.:
Michael Wall Engineering
Landscape Architect:
Mithun
Sub-Contractors
Electrical:
Helix Electric
Plumbing:
Alpha Mechanical
Elevators:
Kone
Drywall/Metal Studs/Plaster:
Performance Contracting
Fire Protection:
Millennium Fire Protection
Mechanical:
Alpha Mechanical
Earthwork:
Shama General Engineering & Construction
Concrete:
Hensel Phe
Casework:
ISEC, Inc.
Curtain Wall/Glazing:
Architectural Glass & Aluminum
Doors and Frames:
Glore & Associates
Kitchen Equipment:
RW Smith
Precast Panels:
Clark Pacific